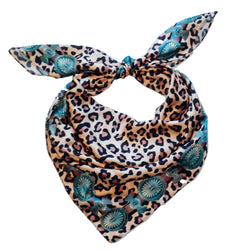 This Leopard Print Concho Wild Rag is a bold, Western-style addition to your cowgirl wardrobe. Crafted from a 36" luxurious silky fabric, this wild rag features a beautiful leopard print and is accentuated with a concho belt border. Add a statement piece to your wardrobe!
Specifications:
Fabric: 100% Polyester
Dimensions: 36"x36"
Hem: Folded & Sewn 
Helpful Links:


Designed in the USA. Imported. 
All Rights Reserved by Whipin Wild Rags Inc. 2022